Eawhbe is another weegee version of
Eubie
, the twin brothers of
Yubee
and
Eubee
, the sisters of Auulace, Awlace,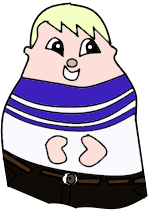 Awgawlena, Lucee and Rozeeh. Eawhbe was created when Yubee fused Eubie's DNA, Weegee DNA, Eubee DNA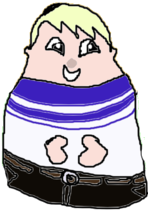 and Higgly DNA. Like Eubie, Eawhbe sleeves are invisible when his hands are inactive and poses like a normal Higglykid rather than a Weegee that Yubee and the Heeglee species pose, but when Eawhbe's hands are active, his sleeves will still remain invisible.
Eawhbe lacks an eye color and is a ruler of Hawgawleetawhn, he formed an alliance between Heegleetewn and Hiigliituwn called the Higgly Weegee Nations. He can also summon Eawhbe Clones and can fire Explosive Parrotgee Eggs from his eyes. Eawhbe is 6.2 years old and he is mainly enemies with Mia, Eubie and Yubie.